Listen…listen…listen…to what the wildly talented composer, singer, and guitarist David James has to say about The Lost Church San Francisco.
---
Coming up at The Lost Church Santa Rosa
Located on Ross Street (between Mendocino & B) in festive Downtown SR
90-minutes drive from San Francisco & the East Bay – come see our new theater, if you haven't, yet. Wrap up a Wine Country Day with a show! —
Matinee performances end at 5pm | Evening performances end at 10:30pm
---
Friday, December 17th – FREE Open House Happy Hour 6-9pm
JOIN US FOR:
FREE Party – pop in any time between 6-9pm… come before another show or visit us after dinner
Relaxed Social Time together with some of our team, some of the artists who perform here, and some the wonderful people, like you,who make up our community
Live Music with TLC Staff Josh Windmiller, Michele Kappel, Joshua James Jackson, and Bryce Dow-Williamson
Q&A time with TLC Staff about our history and future projects
Check out and enjoy our Santa Rosa Theater for the the first time (for free), if you've haven't been able to come to a show, yet
---
Sunday, December 19th – Doors at 7:30 Show 8:15-10:30pm
Swinging the Holiday Classics with Stella Heath and friends
Stella Heath and band members of the Billie Holiday Project bring you an evening of swinging holiday classics. Suitable for all ages.
One of the best things about the holiday season is the music, we will be celebrating in style, with some of the great favorites: The Christmas Song, Santa Baby, Let It Snow, Have Yourself a Merry Little Christmas, as well as some lesser known gems from the soul and blues greats. Have some chai tea or wine and sing along.
Recommended If You Like:
Louis Armstrong, Nat King Cole, Charles Brown
---
Wednesday, December 22nd – Doors at 7:30 Show 8:15-10:30pm
INTRODUCING OUR FIRST EVER IN-HOUSE RESIDENCY
TLC Song Service
(every 4th Wednesday beginning December 22nd)
An intimate evening with three artists passing the spotlight.
Expect insights into the craft of the song from inspiration to final form.
featuring...
Simoné Mosely
Faced with insurmountable odds, Sonoma County native Simoné Mosely, has pushed though obstacles most never mentally make it out of. With the boost of the 1980s hip hop golden age and the pressures of her environment, she found a way to turn her obstacles into opportunities. Utilizing figures such as Erykah Badu, India Arie and Lauren hill she shaped her sound. She strives to combine her sultry voice, poetic insight and experience to bring healing and a sense of culture to all who dive into the realm of self reflection. She invites you to be a part of her growth, basque in her relate-ability and shine on.
Ismay
Named after a town of 19 in the Northern Great Plains, Ismay represents the work of singer/songwriter Cowbirl artist Avery Hellman. Just as with the name, Ismay seeks to uncover ways in which the place we live changes us, and how the natural world provides deeper meaning. For Ismay, a life lived in rural California connects them with the landscape, providing a freedom to express gender identity, and the space to create music. Mystical lyricism, ethereal vocals, and dynamic fingerpicking on guitar are the defining features of their music. With works covering wild horses to wildfire, Ismay's sound is unmistakably connected to the landscape in which they live.

Tru Lyric
Born and raised in Santa Rosa, CA, Tru Lyric has come a long way from making music with friends while attending Analy High School. He found refuge in writing lyrics while battling his depression and anxiety and was able to grow as a musician helping others who battle with the same disease. His passion and love for music stems from what he grew up listening to during his childhood: The Temptations, Notorious B.I.G., and Frank Sinatra. As his view of Hip-Hop transformed, Tru Lyric began working with musicians from across the county to infuse Jazz, Gospel, Rock, Blues, and even Salsa into his music.
Recommended If You Like:
Erykah Badu, Kendrick Lamar, Emmylou Harris, Hazel Dickens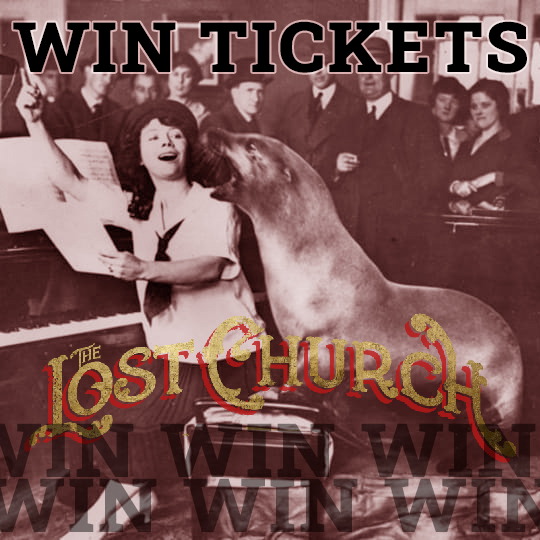 ---
Open up your ears and hearts to our new internet radio station Lost Church Free Radio!
The shows listed above are almost ALL currently on the air…like right now! You can tune in while you read the rest of this edition of the Bulletin.
The Hangover Session with DJ Webbles begins on January 2nd and Deep Dives/Cool Types with Darwin Meiners kicks off on January 5th.
Live at The Lost Church is coming later in 2022 and will feature Live Performances from our stages!
We feature a mix of original conversations about music and motherhood or about your favorite songs and their deeper meanings or about our shared mortality and love of living. Our station also features uniquely curated travels through the world of local and national new music of all genres, hilarious true stories, old-time radio theater horror and suspense, audio memoirs, interviews with world renowned artists, plus music from artists who have graced our stages or are about to, and much more!
---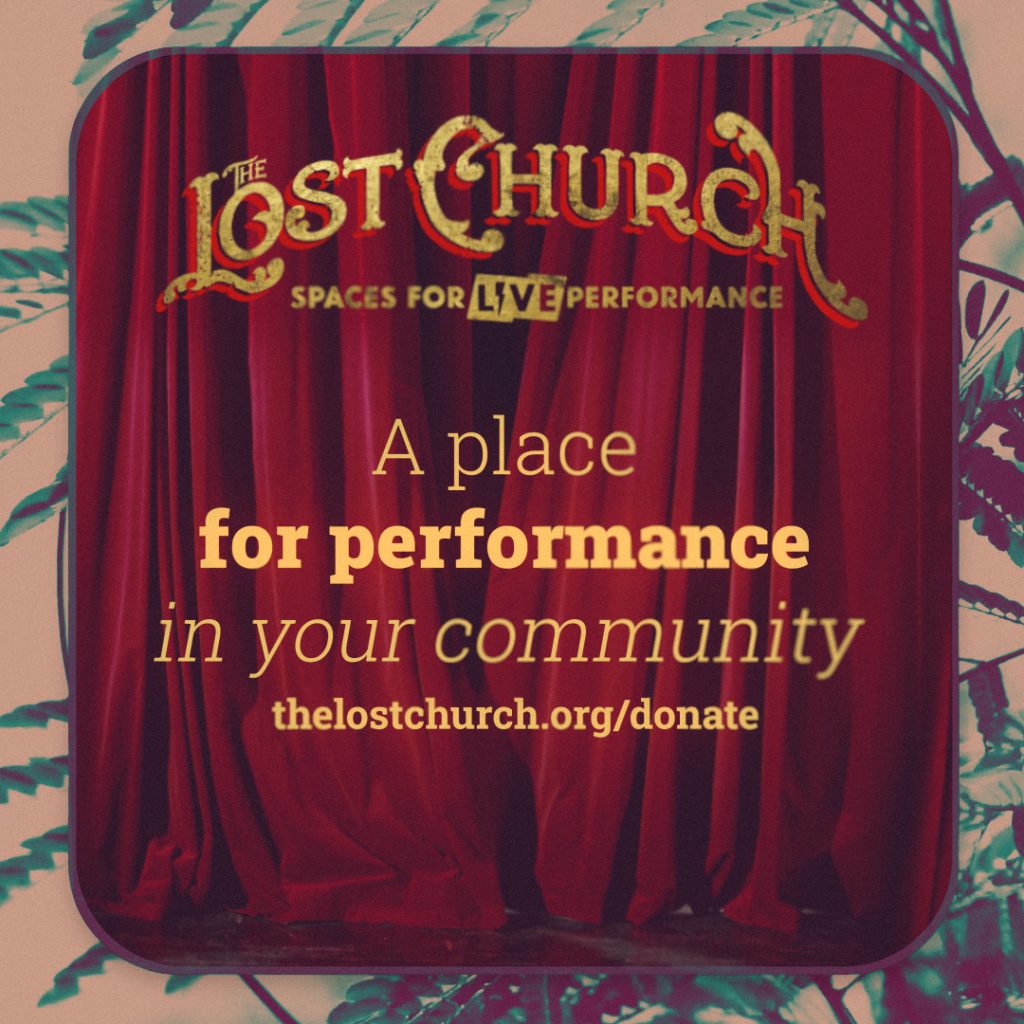 ---

From Your Everlovin' Editor
Wishing you gentle days of celebration.
We hope you're enjoying the holiday time with your loved ones and friends.
Thanks for helping us make it through this crazy year and for standing with us as we embark of some wild new adventures next year.
Love,
Michele & The Lost Church
Private Event Rentals at TLC Santa Rosa
Let's Party!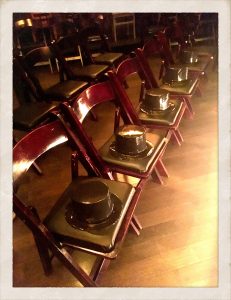 Looking for a charming, easy, memorable, and fun place for your  Birthday, Anniversary, New Year Party or Company Party?
Contact us to find out more about our  Private Event Rentals in Santa Rosa.
A private event in our beautiful, rather eccentric theater is a party or event that your guests will really remember.
Highly Recommended Reading…
Advice from Nick Cave
Do you know about Nick Cave's thoughtful and totally on point advice site?
Here's a wise response to a youthful question from the December 2021 edition of Nick's Red Hand Files…
I'm sixteen and have just recently gotten really into your work. I was wondering: what advice would you give to your sixteen year old self and why?
TAYA, LOWER SACKVILLE, CANADA
Dear Taya,
This is an excellent question and I am often asked it, but I find it a very difficult question to answer. 
The difficulty is that I am, in fact, my sixteen-year-old self, just half a century older. Not only that but, sitting here at the kitchen table, with the sun streaming through the window, answering your excellent question, my older self, the current destination of my younger self, is mostly happy.
However, my older self is protective and instinctively wants to warn my sixteen-year-old self not to make the mistakes that I know from experience are going to cause him pain. But, you see, this older and more experienced self also knows that the painful things are often the things that ultimately give substance and meaning to life. My older self knows that life's mistakes are destiny's way of laying the tracks that will bring my younger self to the place where I am at this very moment — the mostly happy place, where I sit, with the sun coming through the window, writing an answer to your excellent question. 
Have a great life, Taya, it's all ahead of you.
Love, Nick
_________
Read more of The Red Hand Files
And learn the compelling and slyly delicious answers to questions such as…
Is it important to have friends?
Do you feel that you share more than your first name with Nick Drake?
Have you ever met a hero that didn't disappoint?
Should we separate the artist from the art?
How do I not get my heart broken?
Our dear Jasmine Pritchard charming us all at our 2019 Holiday Party and Awards Show. Can't wait to bring this party back in 2022.