This Weekend at The Lost Church Santa Rosa
Located on Ross Street (between Mendocino & B) right in festive Downtown SR
90-minutes drive from San Francisco & the East Bay – come see our new theater, if you haven't, yet.
— Wrap up a Wine Country Day with a show! —
Matinee performances end at 5pm | Evening performances end at 10:30pm
---
Friday, December 10th – 7:30-10:30pm
An Evening with Kingsborough
Frontman Billy Kingsborough and lead guitarist Alex Leach of San Francisco's Kingsborough are determined to connect with audiences both on record and on stage. Influenced by the sounds and songwriting of The Beatles, The Black Keys, and Led Zeppelin, Kingsborough form a bond with fans by unleashing a brand of potent rock n' roll that No Depression calls "laced with a vintage elegance that appeals to an ever-changing audience." www.kingsboroughmusic.com
Recommended If You Like:
Rival Sons, Arctic Monkeys, The War On Drugs, My Morning Jacket
---
Saturday, December 11th – 7:30-10:30pm
Beckylin and Her Druthers & Timothy O'Neil Band
Beckylin & Her Druthers are a wig country band out of the Bay Area recreating the glamour, fun, and sincerity of early 70's TV country music. "Rebecca Coseboom sings with a rarefied, alluring intimacy" – The Today Show https://beckylin.com/
Featured as one of 2016's "Bands on the Rise" by the Press Democrat, The Timothy O'Neil Band mixes origin roots of bluegrass with a strong nod to punk rock, folk, and a lifetime and adoration for songwriters and songwriting. www.timothyoneilband.com
Recommended If You Like:
Loretta Lynn, Tammy Wynette, Willie Nelson, Patsy Cline,
Avett Brothers, The Devil Makes Three, Brothers Comatose
---
Sunday, December 12th – 2-5pm Matinee
Coyote Slim and Leon Paris
Coyote Slim is a modern songster, who plays traditional blues and old-time songs often interjected with stories and verses drawn from his own experiences working in the outdoors in California's mountains, woods, and urban jungles.Coyote Slim was voted "Best Blues" by the 2020 North Bay Bohemian. www.coyoteslim.com
Leon Paris performs traditional Afro-folk music of the Americas, seamlessly transporting the listener to the acoustic landscape of Afro-futurism. He is an African American folk artist, multi-genre, multi-instrumentalist, composer, producer, singer-songwriter, educator, and an individual of indigenous-diasporic origins. He recently received praise from the Smithsonian Folk Institute, for his work with community, land, solidarity, education, reclamation and justice, through the Black Banjo Reclamation Project. YouTube
Recommended If You Like:
Dom Flemons, John Lee Hooker, Leon Redbone, Mance Lipscomb
---
Our Executive Director, Brett, recently shared this article with our TLC Team saying…
"This is the world I grew up in… is it too late to start making stapled 'zines again?! Great article… literally why The Lost Church exists"
Make it Small
How Punk Responded to the Deadly Concerts of the '60s and '70s.
by Kevin Mattson — from Slate.com
This rehumanization of rock led some to see the wall between performer and audience falling, most obviously when a kid scrambled onto the stage, made physical contact with a performer, and then "stage-dived" back onto the floor. (The stage—and there was often none—was usually no more than 3 feet high.) One writer in Seattle explained that when a singer "took the stage, we knew at once that he was one of us. It wasn't Him the Singer and Us the Audience. We were united."
That statement was found in one of many zines that the movement produced over the years. Zines expressed the DIY predilection probably even more than collectively run shows did. It was within Xeroxed, stapled, and cutup zines that young readers learned about previous and forthcoming shows, what records had been released, who was on tour. (There were also wheat-pasted flyers that announced shows, many with quite intricate illustrations—some of the best being Raymond Pettibon's flyers for the band Black Flag.) Sometimes zine producers commented on politics, especially within the pages of Ripper and Maximum Rocknroll. Zines created a network, with kids bartering and trading them through the postal system. And it was in a zine (the D.C.-based Truly Needy) that John Stabb, lead singer of the band Government Issue, reflected on how grateful he was that small shows had allowed him to "avoid arena concerts."
---

Where the World Begins – created by Avery Hellman
Mondays at 9am PST on KTLC
A coming-of-age audio memoir about moving to the family ranch in search of a new life. Stories ranging from wildfire to lambing to songwriting, we weave together soundscapes with personal stories and interviews giving a window into life in rural California.
---

The Latest News on our new San Francisco Location
We're in the decidedly un-sexy part of reopening the SF theater in our new North Beach space — it's called Permitting.
But, we're moving through the process, the paperwork, the meetings, the running around town, and we are making progress.
Such as…
We talk about the loss of many things in 2020, but one thing that was often a staple at our shows in now g-o-n-e — GONE.
The long line for the bathroom.
That's right, in our new space we will have not just one, but TWO ADA accessible restrooms and zero loooong lines during intermission.
Your donations are making the new SF Theater a reality!
Thanks to everyone who donated recently and, if you haven't, yet, please consider contributing to our End of Year Fundraiser.
Thank you — we can't do this without you!!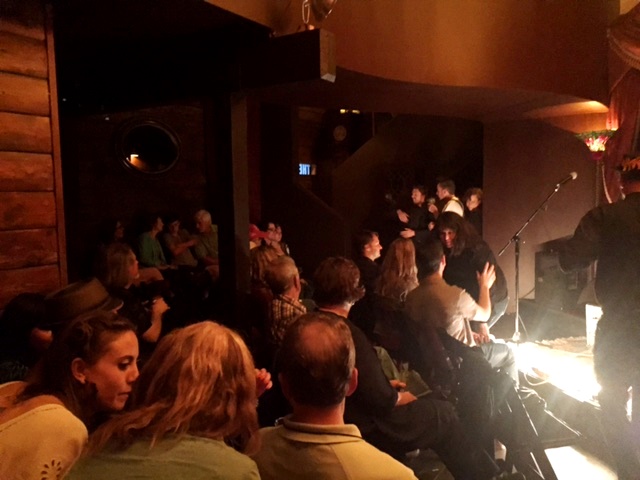 ---